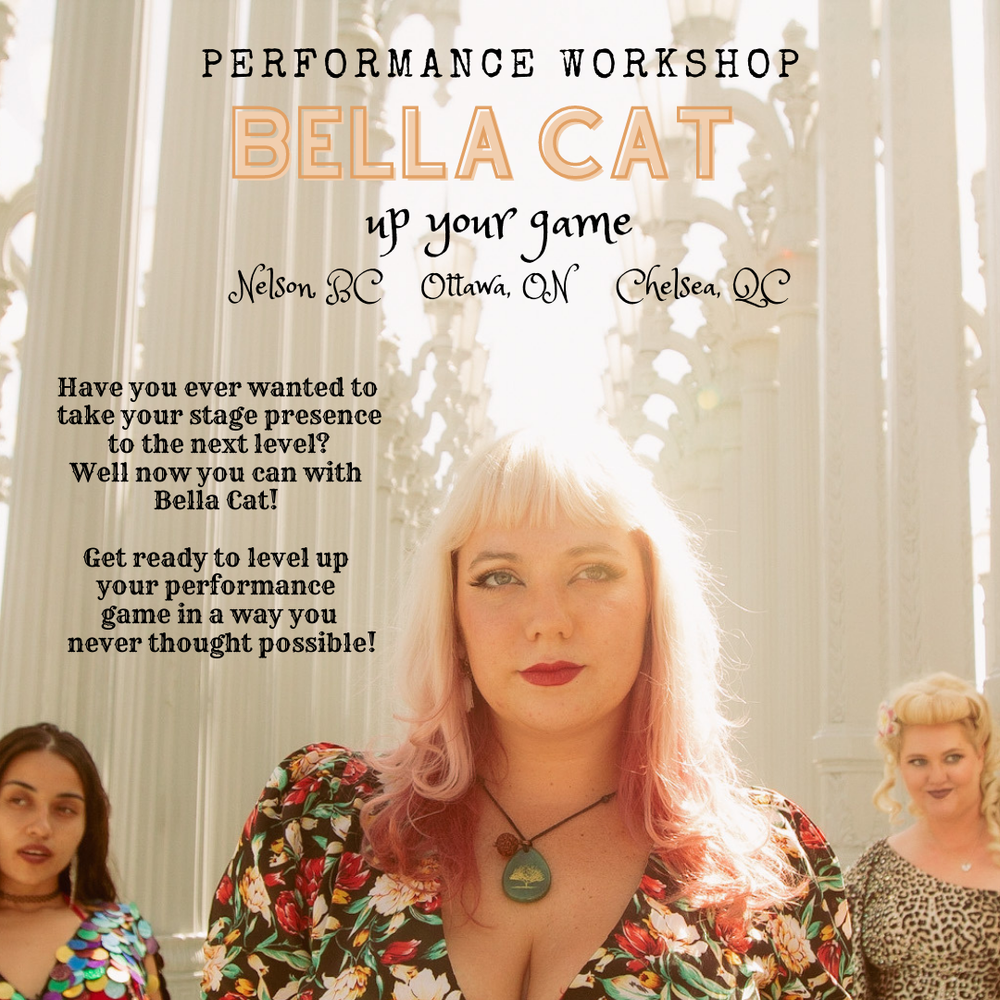 Performance Workshop 2023
up your game
Performance Workshop Details
"Bella Cat is the Princess of Soul" - Clyde Stubblefield
Are you ready to take the next step to become the best artist you could be today?
Bella is not only known for her powerhouse vocals, it's her captivating stage presence that draws you in! When Bella lived in Ottawa she taught music and performance classes at The Bluesfest School of music and art, Rob's Music, Sing House Studios, and, Sunnyside music school. With a performance degree from Selkirk College in British Columbia Bella is back and here to bring you the best workshop for stage presence and voice.  
Ottawa is where Bella's career started but not where it ended, now residing in British Columbia after 7 cross-Canada tours Bella is known Canada-wide. She is in town for one month this January on her 8th tour while releasing her 3rd album. You might know her from her outstanding performances at Ottawa Bluesfest or maybe from Canada's version of The Voice based out of Montreal "La Voix". She has released two full albums, one out of Nashville in 2014 and the other out of Chicago in 2019. Inspired by La Voix she hosted her own live show called "Ottawa Performance Competition", which then turned into a production company called Bella Cat Soul Productions. At first, this was a non-profit organization to help amateur artists of all kinds grow, find their voice, and, place them on the stage where they belong but now this company has grown into something much bigger. 
Bella isn't just a recording artist but also a composer, producer, songwriter, music video director, performance coach, photographer, and overall creator. Bella has no label she does not fit into one box, her genres bounce from RnB, Jazz, funk, soul, country.. etc. she can do it all. We hope you take interest in this workshop hosted by Bella Cat it will surely not be disappointing and whoever is involved will definitely benefit even if they are new to singing and or performing live. 
What you will learn if you are willing. 
( This Workshop can be catered to your specific needs as an artist pick one or all of these options for your workshop)
Vocal techniques 
Vocal warm-up 
Dance techniques 
Captivating your audience
Pushing through the threshold to exceed your highest potential
Changing your way of thinking "this is scary"
How to use your microphone properly
How to book your next gig or first 
Becoming a professional independent artist in the music industry
How to write a treatment and or produce your next or first music video
Stage presence, moving the body and animating your facial expressions
Songwriting and overcoming "writer's block" (learn how to write a song)
Theory
Beginner piano
Do you play an instrument? Tell us your level and we might have a surprise for you! 
Stage presence with an instrument (how to use your instrument to your advantage)
Connections and or suggestions for videographers, photographers, recording studios, and, musicians for hire.
Instagram reel of your progress
Record a demo of a song or song you're writing to pass on to producers or a band
How to get a band together
Creating a brand and website
This workshop is running through 2023. You can book a time that works for you. It is 65$ a session, each session is 1.5 hours. Or 100$ for 2.5h.